Professional Raccoon, Skunk and Wildlife Removal for Fruit Heights Utah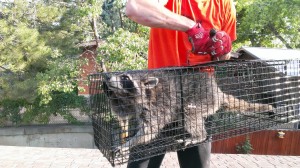 Utah wildlife specialists team can help!
Fruit Heights is a beautiful city neatly tucked away in the north pocket of the Wasatch Mountain front. We receive calls daily in Fruit Heights about Bat Removal Raccoon removal Skunk Removal and Snake Removal. We have many customers like Angie who call in asking "if Utah Wildlife Specialists can help when I have both baby raccoons and a momma raccoon in my attic?" Utah Wildlife team can help
Our Wildlife Control Services Include:
Raccoon Control
Fruit Heights has been the home to Raccoons for many years. The mountain range makes the area a prime choice for Raccoons to mate and look for a place to have their babies. Baby Raccoons are called Raccoon Pups. Most of our calls are due to Raccoons entering either an attic or crawl space looking for a safe, warm area to birth their young.
Raccoon Quick Facts:
Raccoons are highly intelligent, mischievous animals.They eat nearly everything!
They are stocky mammals about 2 to 3 feet long, weighing between 10 to 50 pounds.
Marked distinctively with a prominent black mask over the eyes and a heavily furred, ringed tail, raccoons are typically salt and pepper gray, though some are a yellow color.
Raccoons are active usually at night.
Their mating season is January through March and give birth 1-2 months later with an average of 4 – 5 babies.
Raccoons create a lot of destruction in their path, their tracks are very distinct.
They eat plants, insects and animals.
They live where food is readily available. When they begin to come into human territory, they eat from garbage cans and pet food left outside.
They can be very vicious animals when the feel threatened.
Skunk Removal
Skunks Can become a really stinky problem when they're living around your home or business. We use safe humane techniques to trap and remove skunks from your home.
Skunk Quick Facts
skunks, are medium sized mammals best known for their tendency to spray foul smelling fluid as a defense against predators.
They are a member of the weasel family.
Skunks are typically a black and white furred animal with short, stocky legs and large feet with well developed claws perfect for digging.
Skunks love to find food sources left around the home or in the garbage.
It is difficult to get rid of a skunk once they have discovered easy food and shelter.
Bat Removal
Bats Can quickly become a problem if simply left alone. Bat guano causes some serious respiratory diseases. Call us quick to talk about the bat solutions we can provide. Fruit Heights is the home to many farms and ranches making fruit bats a huge problem in the area.
Bat Facts:
Bats are the only real flying mammals, they have forelimbs that are developed as wings.
There are a 1,000 species of bats.
They feed at night on flying insects, many are harmful to humans.
The night consumption of insects by a bat colony can be extremely large.
The presence of bat roosts near human living areas can result in excreta, animal dander, insect fragments, and various microorganisms entering air ducts. Such contaminants can result in airborne particles that result in public health significance.
For immediate attention, call
801-675-8829