Professional Bat Removal, Exclusion and Cleanup!
If bats have become a problem at your home, business or property, our professional trapping specialist can remove them with our unique live trapping techniques. Bats roost in attics and chimneys and enter buildings through roof vents, various conduits, windows or cracks in building structures. They can enter wall cavities and ceilings where they bare their young. They will contaminate their living area with guano and bat urine. They can enter wall cavities and ceilings and die causing tremendous odor problems and contaminating the inside of the building. Bats can spread rabies and their guano cause major health and respiratory problems. We use the most current bat live trapping release, and cleanup/decontamination techniques. After bats are removed from the structure we block out openings to prevent future bat infestations. All of our specialist have the highest standards in the industry. Call today to have a specialist come to your property to do a inspection and evaluation to solve your wildlife problem today.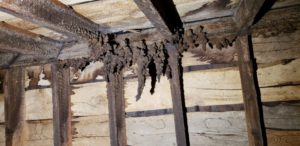 Bat Quick Facts
Bats are the only real flying mammals, they have forelimbs that are developed as wings.
There are a 1,000 species of bats.
They feed at night on flying insects, many are harmful to humans.
The night consumption of insects by a bat colony can be extremely large.
The presence of bat roosts near human living areas can result in excreta, animal dander, insect fragments, and various microorganisms entering air ducts. Such contaminants can result in airborne particles that result in public health significance.
Please Remember: Bats can carry Rabies
If you are having problems with Bats in any city of Utah. Please make sure you give us a call before attempting to remove bats yourself. Bat Removal isn't a DIY kind of project and can become deadly if contact is made with a bat carrying rabies. A woman recently was reported dead after contact with a bat carrying rabies, so again please call for professional help.
For immediate attention, call
801-675-8829