Pigeon Control, Removal, Cleanup & Prevention
Protect Solar Panels
Pigeon Trapping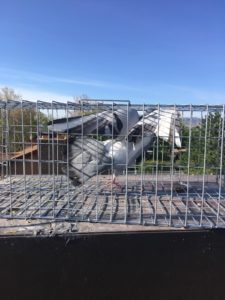 If pigeons have become a problem on the rooftop or exteriors of your home, business or property our professional trapping specialist can remove them with our unique live trapping techniques. Pigeons will roost on rooftops, eves or ledges where they hatch their chicks. They contaminate mechanical units, attics and rooftops where their pigeon urine, waste and bird mites causing major health and respiratory problems and tremendous odor problems. Pigeons are known to carry and transfer diseases to both people and livestock due to their droppings. Common diseases are ornithosis, encephalitis, toxoplasmosis Newcastle disease, cryptococcosis, and salmonella food poisoning. Structures that are inhabited by pigeons not only sustain damage from mature droppings but also decrease the market value of the property. We remove pigeons and do the clean up and exclusion work for preventative control. All of our specialist have the highest standards in the industry. Call today to have a specialist come to your property to do a inspection and evaluation to solve your wildlife problem today!
Pigeon Quick Facts
There is no question that birds are beautiful creatures that bring a great deal of joy to our lives. However, when they are in areas outside of their natural habitat, they can be disease-carrying, destructive wild animals. Whether you have bird droppings on your car or there are birds in your attic, we offer the bird control services that will eliminate the problem humanely.
In addition to the mess that birds cause, they can also spread disease through their droppings. Bird control is just one area of animal control that we offer to make people's homes a little safer and more secure. We continually provide wildlife removal services to remove animals of various kinds from individuals' homes in order to prevent their doing damage. While some species may get under the floors or between the walls, birds and bats are both types of wild animals that may need to be removed from the attic or loft. Our bird control techniques allow us to safely trap any kind of bird at might be present in your building or structure without causing them any damage.
If you have birds roosting in your garage, causing damage to your valuable vehicles, we have the bird control services to remove the birds so that your vehicles will be protected. We also provide the blockout and exclusion services to prevent birds from entering the same location later on. Once we have removed the birds, we will provide you with our specialty cleanup services to remove the feces that can cause the spread of disease.
There are many types of wild animals that we enjoy seeing in their own habitat. Birds in particular provide us with a great deal of beauty. However, when they are causing damage to your property and your home, they are no longer the enjoyable wildlife that we can feel comfortable in having close by. For the best in bird control services, contact us.
For immediate attention, call
801-675-8829
Pigeon removal services for the following cities:
Ogden, North Ogden, South Ogden, Riverdale, Brigham, Logan, West Haven, Farr West, Clearfield, Hooper,Syracuse, Layton, Roy, Fruit Heights, American Fork, Brigham City, Cedar City, Clinton, Draper, Farmington,Kaysville, Lehi, Orem, Payson, Provo, Riverton, Sandy, Spanish Fork, Springville, Tooele, West Jordan, West Valley City, Centerville, Salt Lake City, Murray, Riverton, Bountiful, North Salt Lake, Park City and many other surrounding cities.