Pigeon Removal Services
Call now for a free quote!
Protect your solar panels!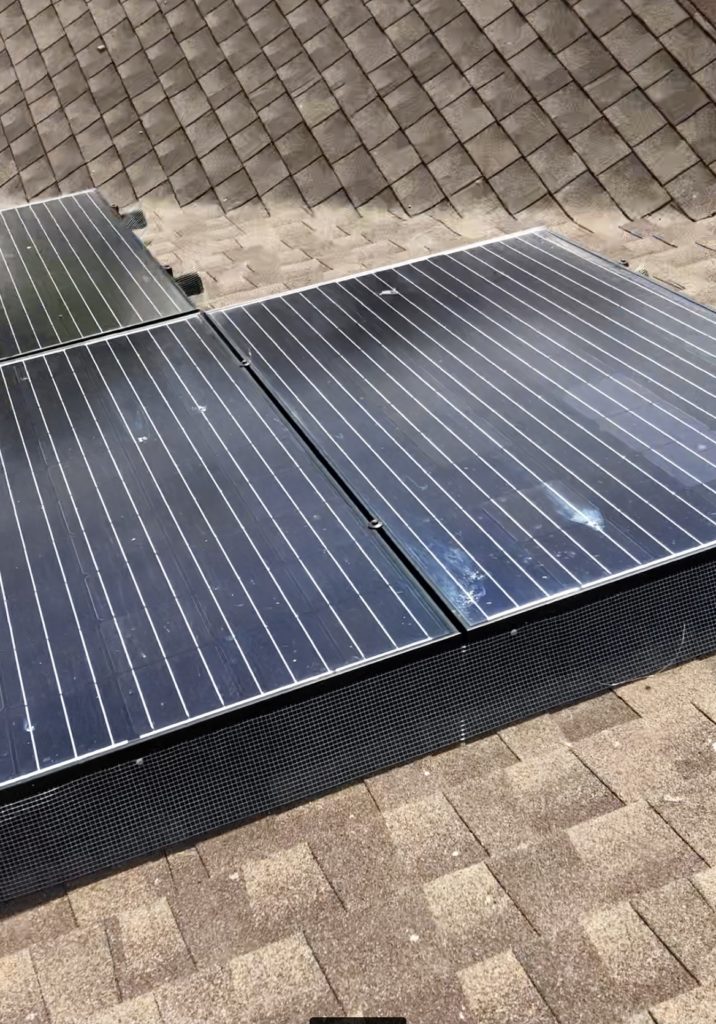 Pigeons roost under solar panels damaging your expensive asset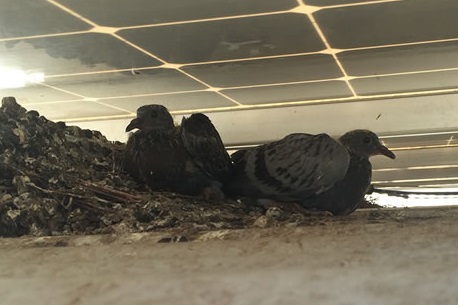 We specialize in solar panel pigeon removal services. We remove and decontaminate droppings, nesting and the mess pigeons leave behind. We install proven critter guards custom cut to your panel setup. Our critter guards provide a permanent solution to keep pigeons and other animals from accessing the space under your panels. Protect your investment! 
When birds leave waste on or around your solar panels disease becomes a major concern. Often times the waste buildup gets so bad there is roof damage and spillage into the yard. There are multiple diseases and fungi that are commonly found in bird waste including: Histoplasmosis, Cryptococcosis, and other fungal diseases.
We use commercial grade pigeon waste removal techniques to restore your home or business back to a safe and waste free environment.
Professional Pigeon Control Methods
Our pigeon waste removal specialists also specialize in deterring pigeons and other birds using bird spikes and netting options. We remove all types of birds from solar panels, dryer vents, attics, and other common locations pigeons and other birds use for roosting. The longer pigeons and other birds are allowed to remain unchecked the worse the cleanup will be. It can cause thousands of dollars in damage to roof shingles, attic insulation, and soffits.
In addition to the mess that birds cause, they can also spread disease through their droppings. Bird control is just one area of animal control that we offer to make people's homes a little safer and more secure. We continually provide wildlife removal services to remove animals of various kinds from individuals' homes. While some species may get under the floors or between the walls, birds and bats are both types of wild animals that may need to be removed from the attic or loft. Our bird control techniques allow us to safely trap any kind of bird at might be present in your building or structure humanely.
If you have birds roosting in your garage, causing damage to your vehicles or other valuables, we have the bird control services to remove the birds so that your valuables will be protected. We also provide exclusion services to prevent birds from entering the same location. Once we have removed the birds, we will provide you with our specialty cleanup services to remove the feces that carry disease.
For the best in bird control services, contact us.
For immediate attention, call
801-675-8829
Pigeon removal services for the following cities:
Ogden, North Ogden, South Ogden, Riverdale, Brigham, Logan, West Haven, Farr West, Clearfield, Hooper, Syracuse, Layton, Roy, Fruit Heights, American Fork, Brigham City, Cedar City, Clinton, Draper, Farmington, Kaysville, Lehi, Orem, Payson, Provo, Riverton, Sandy, Spanish Fork, Springville, Tooele, West Jordan, West Valley City, Centerville, Salt Lake City, Murray, Riverton, Bountiful, North Salt Lake, Park City and many other surrounding cities.