Do you need help Removing Raccoons from your Chimney? We can help!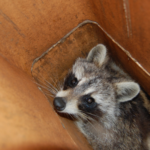 Utah Wildlife Specialists can help you or your business get rid or Raccoons living in your chimney and keep them out for good.
Many people in North Ogden Utah experience problems with Wild Raccoons getting into their Chimney's and then giving birth to a litter of two to seven raccoon pups. This may seem "cute" until they get into your attic or attack a child or pet. Raccoons are very vicious animals and should only be removed be a professional.
Raccoon Removal can be very tricky. Every case is a little bit different and calls for creative solutions by our wildlife removal specialists team.
Why do Raccoons like to get in the chimney?
Your chimney is a great place for Raccoons to live due to the easiness for the raccoons to get in and keep other predators out. Especially when female raccoons are looking to give birth to their litter.
Chimneys keep raccoons safe from the elements.
How do I get rid of raccoons in living in my chimney?
We use anything from one-way doors (depending on how old the Raccoon Pups are) to live traps and catch poles. Usually when we use catch poles it become very dangerous, but it is the most effective way. Many people have tried this on their own and been very seriously injured and almost killed due to falling off their own roof. This should only be done by a professional.
For immediate attention, call
801-675-8829